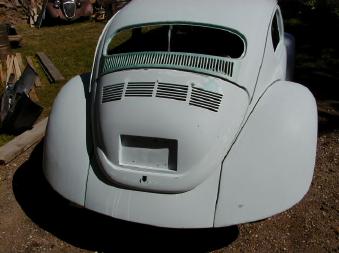 No more orange butt! Yes, it's true, after several months of bugzilla sitting around looking like the great northern Mandrill the decklid has been cut, filled, molded and primered. This decklid came from the donor pile and was picked mainly just to fit. The mount area for the plate illumination light , right smack in the center, was smoothed out with all the holes filled in. The vents are staying for two reasons: first, they're pretty good at venting heat when you're running around in the summer time. Second, I don't really like the way they look when they're completely smoothed. I like old cars (please, God, send me a '50 Merc) but I don't like the smoothed out decklids, or even the W-style decklids. Replacing them with louvres was an idea, or even a slim scoop molded into the lid, but I opted for subtlety.
You may also notice that there's now a sunken area for the license plate. That's no mistake, mister, it's all in the plan. There's a billet license plate frame that has a plate illuminator which fits inside with about an eigth of an inch all the way around. The recess is only just deep enough to hold the frame and not much more. With the frame and plate installed it's almost flush.

What's this? One of the other things Bugzilla is getting as a modernization is side markers. Since the headlamp rims have the parking and turn signals in the bottom of the well, and from plenty of rib-poking from my brother, I thought that having some side markers would be an excellent idea. Apparantly, everyone else under the sun thinks so as well. When I was ordering them off of a '98 Passat the parts guy at the local VW dealer said that people have been having them stolen and people have been ordering them to put on motorcycles and such. And I thought it was an original idea. Oh well, at least it'll look cooler on Bugzilla than on a motorcycle.
The picture here is of a '99 Passat, but my markers are off of a '98. Mine are also amber in color whereas the ones shown here are clear, or "smoked clear", whatever that means – they don't look any different from the clear ones.
Another bit of modernization that will be going in is a different dash, and probably one built from scratch at that. The problem is, what is it going to look like? There's definitely something to be said for the classic dashes of the forties and fifties (above right), as well as for the really different ones like on this picture of a Prowler interior (below right). Heck, I don't even have a steering wheel picked out at this point. But, it's now time to sit down with pencil and paper and get to designing a new dash. If you've got ideas or suggestions, please let me know. A couple of the things that have been suggested so far include:
LCD screen for rear-mounted camera
eyebrows on the guages (using steel pipe)
lots and lots of guages
empeg Linux powered MP3/FM stereo
raised and centered guage pod
giant tach, tiny speedo
put the stereo in a center console