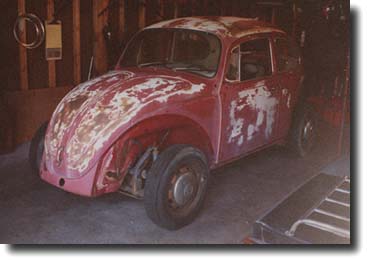 After getting the bug home and into the garage, the first thing, after chocking the wheels, was to start emptying it out. First, take out everything that Norm had stored inside: seats, bumpers, panels, running boards, seat belts, miscellaneous nuts and bolts, a penny, gas tank, wiper resevoir and motor, and all the little bug carcasses that had piled up over the past three years.
The next step is to remove all of the door panels, glass, seals, headliner, maybe the wiring harness, battery, dash, floor rubber and insulation… You get the picture. Once it's down to the bare bones, it'll be time for a trip up the canyon for the facelift.
First things first, however. Foremost among the List of Things To Do (tm) is tear everything out and off that will even conceivably get replaced. This includes the floormats, rubber insulation, battery and that funky grey carpet put on at the factory. That stuff just gets torn out and trashed since it isn't even in good enough condition to give away. Once we have that out of the way we sic the shop-vac on it to clean up all of that little crap that's floating around in there. Most of it is crumbled rubber and plastic, dirt, hamburger wrappers and poker chips (?). Hey, I found two more pennies and a dime!
Once the interior is fairly clean the next step will be to remove all of the glass. All of the seals are going to get replaced and it all needs to be out when it gets painted anyway, so there's no time like the present. The rear window is one of the ones with a defroster in it and since this is going to be mostly a summer time bug we'll replace that with a normal piece of glass. Even the heater ports into the rear are going to be blocked off or plugged. The rear quarters have that shiny stripping which we'll need to replace with something not-shiny. The stud on the lifting thingy will need to be blacked out. Part of the concept for this car is what is called "Cal-Look", which mostly means dechromed with very dark windows and a lowered front-end. (At least that's the part of the concept I intend to use.)
The triangles come out for good as well. I'm going to be putting in a full-window replacement so we won't need these. While we're in the doors, clean everything up and take it all out for the paint. I also need to make sure that the window-roller-upper system won't be interfering with the glass in any way. The door handles come completey off and the mechanism saved so that Kurt has all the parts he needs when he suicides the doors. I'll be putting a keyless entry system on it so the exterior door handles won't be needed. There goes part of the chrome…