My first car was a '72 Beetle. I got a job in a pharmacy to pay for it when I was 14. It was light blue in color, had no body rust but had a hairline crack on one of the heads. A newly machined head, new clutch plate and some brake-work later, I had a machine I could drive of my very own, and did so once I got my license. After moving to Fort Collins, my little blue bug was T-boned by an authentic Buick land-yacht, requiring some new tie rods, bumpers, and quite a bit of body work. I had it repainted "iridescent charcoal" and put some spun aluminum wheel covers on it. After enjoying this for the rest of High School, I sold it to a friend of mine before entering the Army and going overseas. Unfortunately, he totalled it. Ugh. But every cloud has a silver lining, and the bug lives again, but this time as a Porsche Speedster.
During this time, and since, my brother, Shawn, and I talked about getting a Bug to really put some time and effort into. Shawn bought a '72 Triumph TR-6 and has put alot of work into that. It's the most solid little car I've ever run the dams in on and around Horsetooth Reservoir. The back end didn't even slide out until we did about 70mph around one corner coming off of a dam, and then only for a split sec.
Anyway, I recently changed jobs and came into possession of some spare time and decided that there was no time like the present to get a bug and go to town on it. We started looking in the papers, and enlisted the wandering eye of my step-father, who recently bought a '71 TR-6 with a whole garage full of parts, including 2 extra engines, and a house attached. But that's a different story…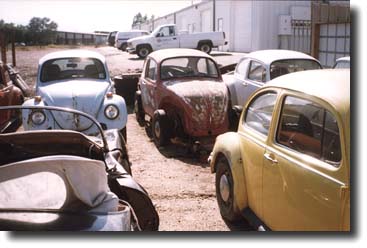 We found the bug on a Sunday afternoon sitting behind "Stormin' Norman's Bug Shop" here in Fort Collins. Norm, himself, owned the beast and had originally planned on doing a little custom work of his own on it but never got the time to get it started. It is a '70 with pop-out rear quarters. I never even thought I'd find one with pop-outs!
Norm does quite a bit of business in the area and get's some nice cars to work on. The black, twisted, piece of car in front of the blue bug is a Porsche Speedster. It was T-boned so hard in the right side that even the left side of the body was deformed. It had been in storage for almost 23 years like this at the time of this photo. Norm plans on having some serious work done to straighten it out and get it nice again.
Just what I was looking for! No fenders, no engine, no tranny. Heck, the gas tank wasn't even tightened down! The seats, bumpers and running boards were all thrown inside, none of which I planned on using anyway so removing them would be cake. The chrome striping, decklid logo, and even the trunk lid logo had all been removed. Excellent… It did have a full set of hubcaps though!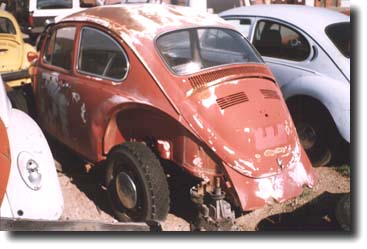 Part of the plan was to dechrome the whole thing, so having most of the shiny stuff off was no problem. I plan on putting a VW logo on the trunk, where the hood is molded for it, and bumpers if I have to have them for whatever reason. Lid handles I was thinking about replacing or hiding but they may go back on as well.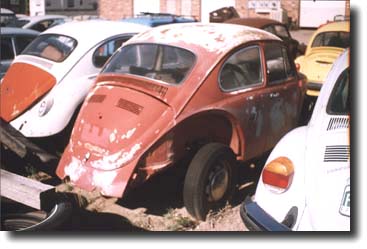 The sun had been beating down on it for the past three years so the paint was gone, but much of the original primer was still there. Very few body dings should make for a quicker trip through the body shop.
Some of the things I plan on doing to the body include shaving the rain gutters off and molding the new fenders to the body. The new fenders are going to be much wider (3″-4″ each) to hide some big tires. The doors will be suicided with keyless entry and the windows will be electric with a full window replacement kit (no triangles). I was thinking about molding the license plate into the deck lid as well.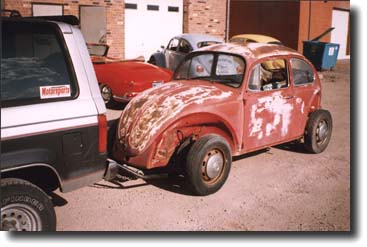 Going home. We borrowed Norm's towbar and used Shawn's Bronco II to tow the bug home. (Note the "Grassroots Motorsports" sticker in his window.) We didn't have any tow lights so I followed real close like in my Jetta, but we didn't have any problems anyway.
Notice the red Ghia in the background? That was one of the cars Norm was working on when this picture was taken. He gets some really nice ones and must have alot of fun doing what he does. He does some robust business on older Porsches as well.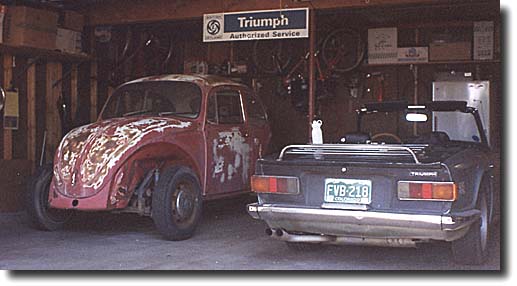 Home at last. We got the bug home without a single problem, unhitched and pushed it up into the garage. The left side of the garage has been deemed the "work" side. The TR-6 used to go here, but it's almost a daily driver when the weather's nice so now the bug goes on the left and my poor Jetta has to sit outside in the elements. At least there's a shade tree covering most of the driveway.
As soon as Shawn moves the "Triumph Authorized Service" sign over to the other side I'll be hanging some cleaned up VW hubcaps up there. At this point, the loose stuff on the inside has been removed and the rest of it is getting ready to come out. The interior is going to be completely replaced, probably with a complete Sew-Fine kit. New seats, dash and custom back deck area are also in the mix.
First things first, though. As soon as the body is stripped down, and I decide on exactly what parts need replacing and buying, I'll do that and cart the lot up into Rist Canyon to have Kurt Rommel do the body and apply the paint. Kurt does outstanding work and specializes in Porsches. He has people from Denver, and out of the state, on waiting lists for body work and he doesn't even advertise anymore. I was talking to him about chopping 4″ off of the top, but I think I'll hold off on that for the time being.
2 Responses to "Chapter 01: Search and Seizure"